I routinely do counselling sessions via Skype webcam. I have found over the years that online counselling works well for many people of all ages.
I am currently doing Skype video counselling with clients in Italy, England, Scotland, Germany, Canada. Although a client may be thousands of miles away, it feels as though we are in the same room. Once clients have access to their feelings, the therapeutic process can go on very well through the internet and they can really benefit from the online counselling.
You don't have to be a tech-wizard to use Skype webcam. You just need a good internet connection, computer, video/webcam and microphone to see and hear each other and communicate in real time, despite the distance. For the best quality of sound and good privacy, having a headset will increase the quality of our Skype video session.
Skype is free, very easy to download and use, and most importantly is confidential. You can go directly to: www.skype.com. to download the software as well as directions for how to use it and open your free Skype account. To make a call from your computer to mine is very simple once you are set up.
Make sure you have a safe, peaceful and comfortable place where you can speak spontaneously, without fear of being overheard or interrupted.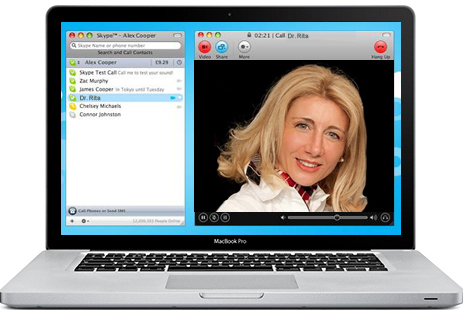 At this point, contact me to request for a 10-15 minute free Skype consultation with an indication of what days and times you may be available GMT and I will respond. It could be very useful to
experience how an online counselling session might feel for you and how we might work together to bring about those changes you want.
All communication is confidential and there are formalities and legalities that need to be in place which secure the therapeutic relationship and protect your privacy. Please see: (http://www.skype.com/en/security/).